Posted in: Comics, Comics Publishers, Current News, Doctor Strange, Marvel Comics | Tagged: books of magic, G.O.D.S., gods, jack kirby, jonathan hickman, new gods, saga, sandman, Valerio Schiti
---
Jonathan Hickman and Valerio Schiti's G.O.D.S. #1 has gone to second printing, two weeks before the first printing is on comic store shelves.
---
Jonathan Hickman and Valerio Schiti's G.O.D.S. #1 has gone to second printing, two weeks before the first printing is on comic book store shelves (or one week, if you happen to shop where this guy goes). A new franchise for the Marvel Comics universe, set deep within it, it purports to depict an age-old battle between two forces that have to get along with each other.
It has been pitched as "Sandman Meets Saga", but Bleeding Cool understands that, from the first issue at least. it doesn't appear to resemble either.
Instead, it may well be what Jonathan Hickman considered doing for New Gods. Before he took over the X-Men for Marvel Comics with House Of X in 2019, we know that he entertained an offer from Jim Lee to write the Legion Of Super Heroes. But it seems he had another famous DC property on the books as well, as he told the Cerebro podcast "There's a version of reality where I wrote New Gods and Legion of Super-Heroes instead of House of X". And G.O.D.S.seems to be a Jonathan Hickman take on Jack Kirby's New Gods, at least in origin.
The New Gods were created by Jack Kirby as part of his Fourth World series for DC Comics in 1971, and came from his work on Thor, after wanting Ragnarok to kill off the Asgardian pantheon. Born of the twin planets of New Genesis and Apokolips. New Genesis is an idyllic planet filled with unspoiled forests, mountains, and rivers that is ruled by the benevolent Highfather, while Apokolips is a nightmarish, polluted, and ruined dystopia filled with machinery and fire pits that is ruled by the tyrannical Darkseid. The two planets were once part of the same world, a planet called Urgrund, but it was split apart millennia ago after the death of the Old Gods during Ragnarök.
And yes, you may see a little comparable to Arakko, Krakoa and the original Okkora that was split in two, which formed the narrative spine of House Of X. But we are not talking about the X-Men here.
In making peace between New Genesis and Apokolips, Highfather and Darkseid made a pact to exchange their sons. Darkseid raised Scott Free on Apokolips while Highfather raised Orion on New Genesis. And that feels like a direct plot point lifted for G.O.D.S.
Because we have seen the two opposing forces in G.O.D.S. as The-Powers-That-Be and The-Natural-Order-Of-Things. And with the previews, we have met Wyn, Avatar of The-Powers-That-Be, also known as Ser Reddwyn, Lord Of The Highlands, Root Of The World Tree, Salt Of The Earth. Might Highlands reflect The High Father, might the Root Of The World Tree reflect Norse myth, might Reddwyn reflect Redroot of Arakko?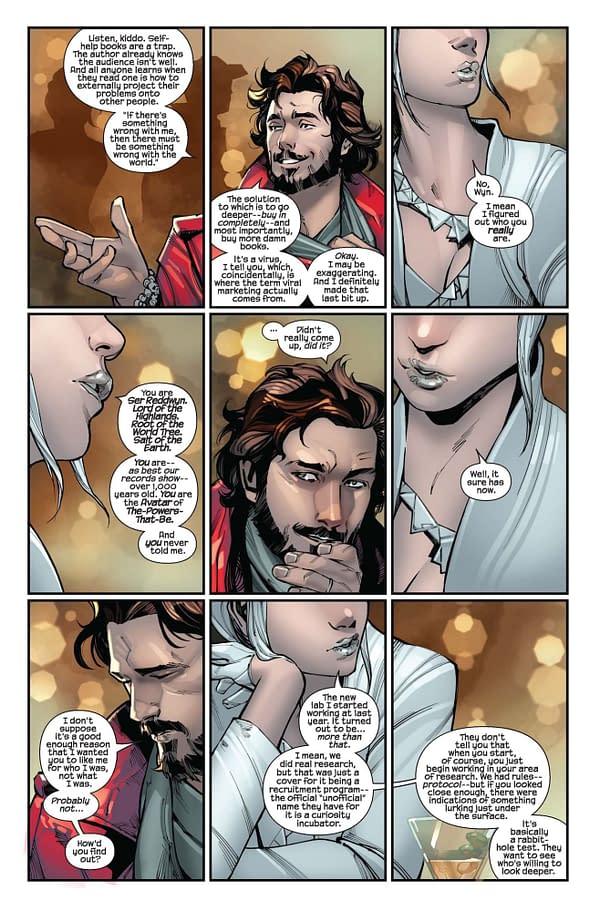 But anyway, more importantly, we have met Dimitri The Science Boy, Proxy in Service to The-Natural-Order-of-Things and Chained Apprentice to the Avatar of The-Powers-That-Be. So, he is one of the Natural-Order-Of-Things who must work for The-Powers-That-Be, and he acts as his ally, apprentice and student. And it seems that this is arrangement between the two opposing groups of G.O.D.S.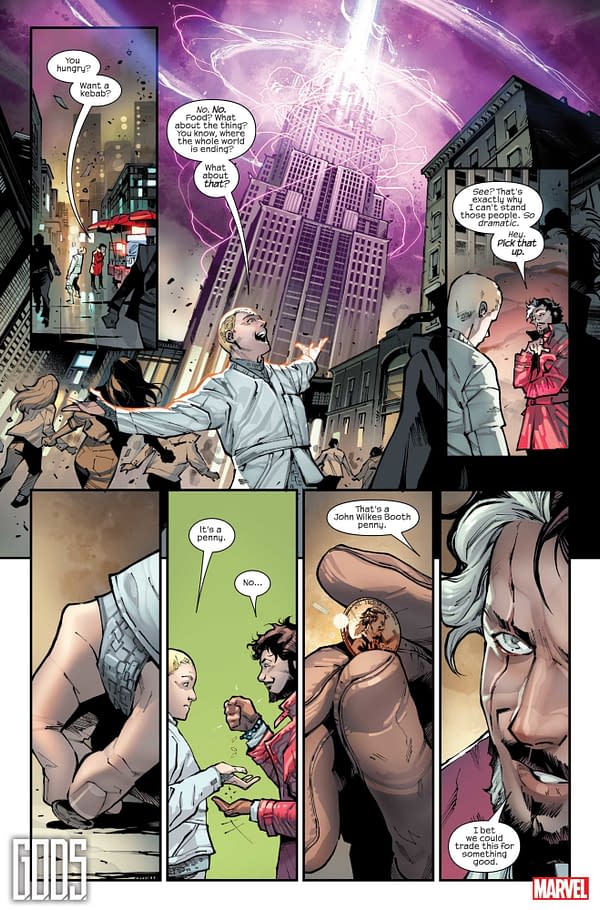 This is pretty much the New Genesis/Apokalips deal for peace, just without the familial links. Might this have once been Jonathan Hickman's plans for New Gods at DC Comics? But that's the set-up; what about the first issue? Well, with an imminent threat to all reality coming, Wyn and Dimitri are on a treasure hunt. But more than the usual.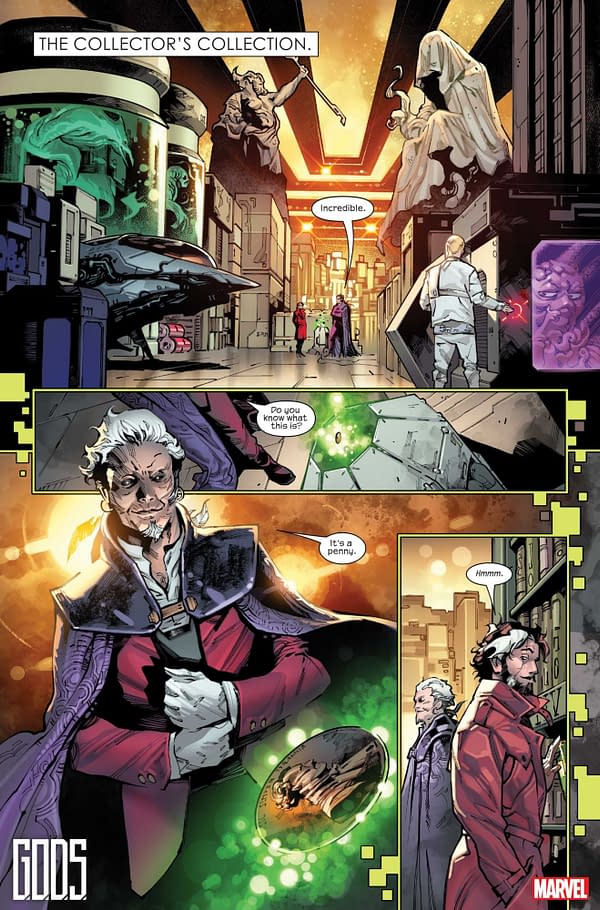 Canadian blogger Kyle MacDonald became famous back in 2006 for the One Red Paperclip blog when he successfully conducted a series of trades, to exchange a red paperclip for a house. The original paperclip was swapped for a fish-shaped pen, then for a hand-sculpted doorknob, and on, including a  camp stove, a beer keg, a snowmobile, and finally up to a two-storey farmhouse.
The Instagram account The Million Dollar Pencil has also attempted to make a million from a series of trades that began with a worn-out pencil and got as for as a two hundred pound box of cigars, before failing.
And that's what G.O.D.S. #1 is. A scavenger hunt/trade, starting with a penny from a parallel reality… in which John Wilkes Booth served as President Of The United States and got his head on the currency.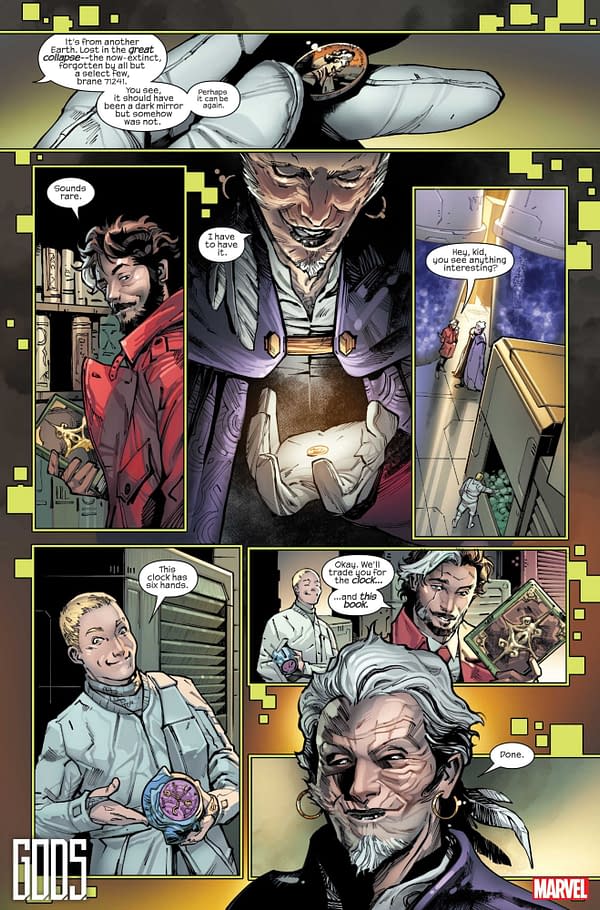 The great collapse being the incursions from Jonathan Hickman's run on Avengers that led to Secret Wars. But also reminiscent of the Great Disaster, also from Jack Kirby's Fourth World. And it leads to a runaround the Marvel Universe, new and old, trading up, creating an action out of almost nothing, something the universe won't notice, but could have a devastating effect against what threatens it. And the trades occurring with many players, old and new, introducing the new reader to classic characters, and long-standing Marvel readers to new characters and new takes on old ones.
Which isn't far off what Neil Gaiman did with Books Of Magic for DC Comics, with four magical guides introducing the young possible-magician Tim Hunter, to the DC Universe in all its complexities. Including, along the way, the New Gods.
So that's what's coming for G.O.D.S. It is not Sandman meets Saga; from the finest issue at least, it is New Gods meets Books Of Magic. And a rich new world created by Hickman and Schiti, all within the borders of the Marvel Universe…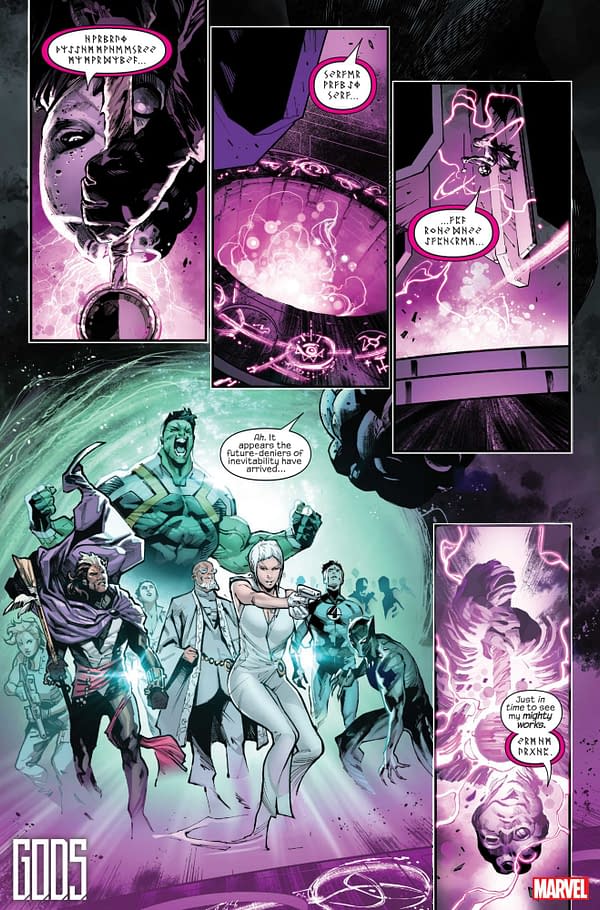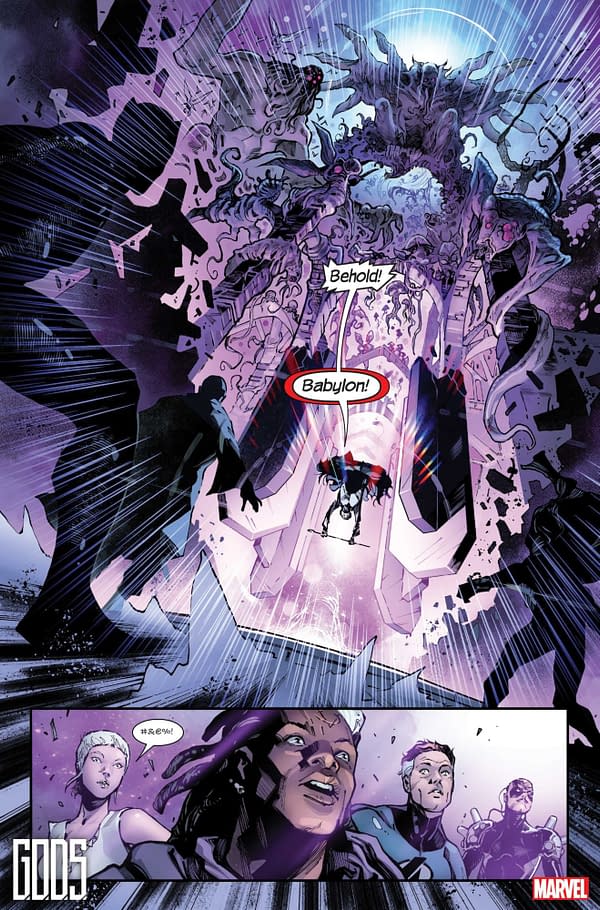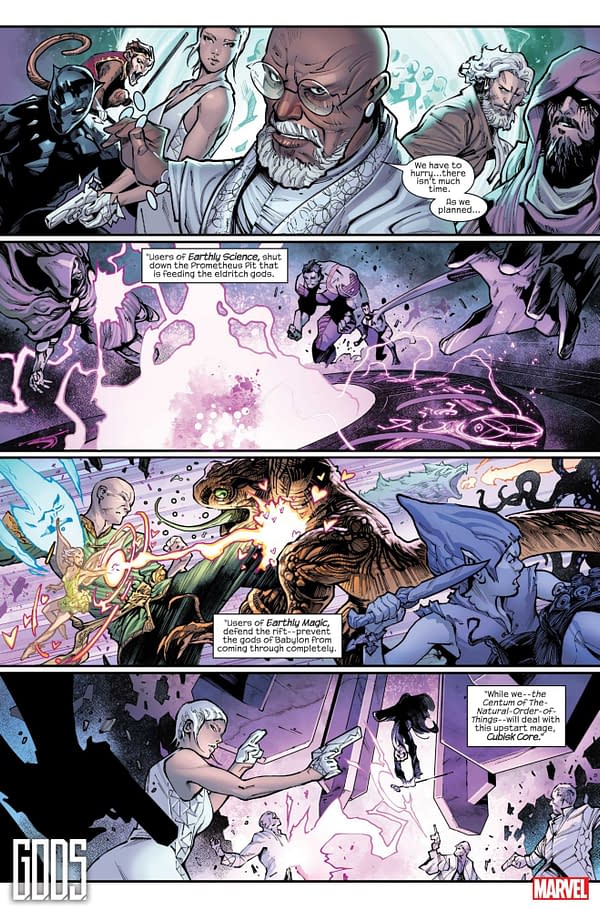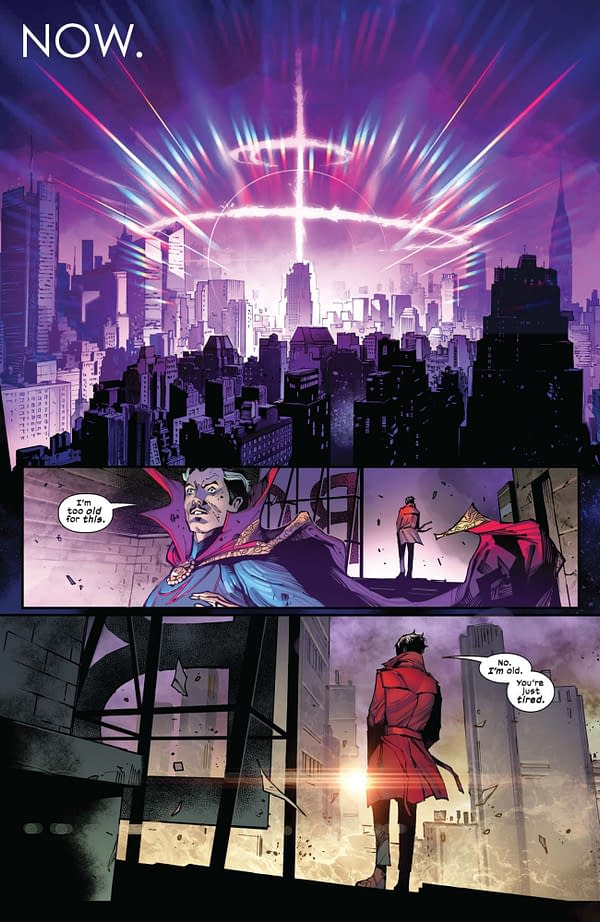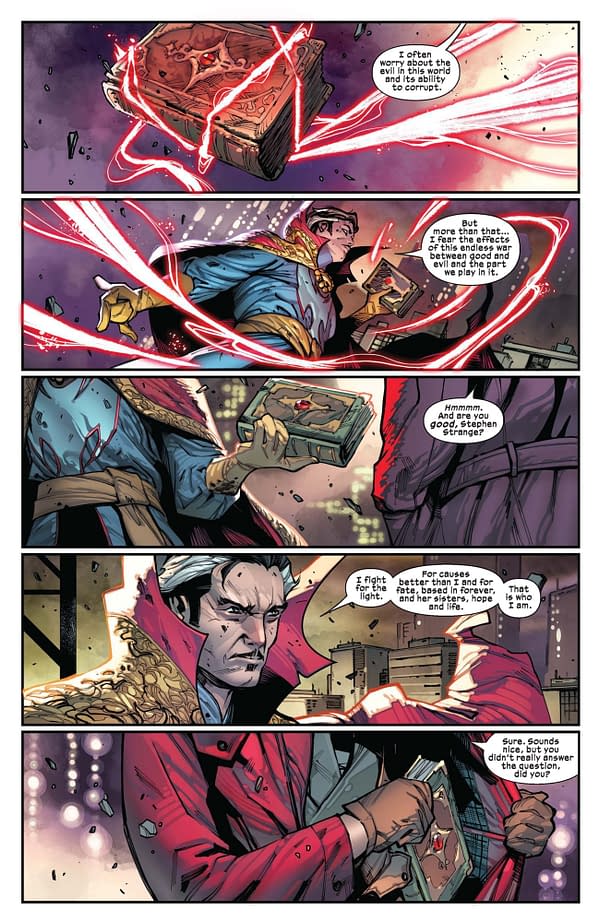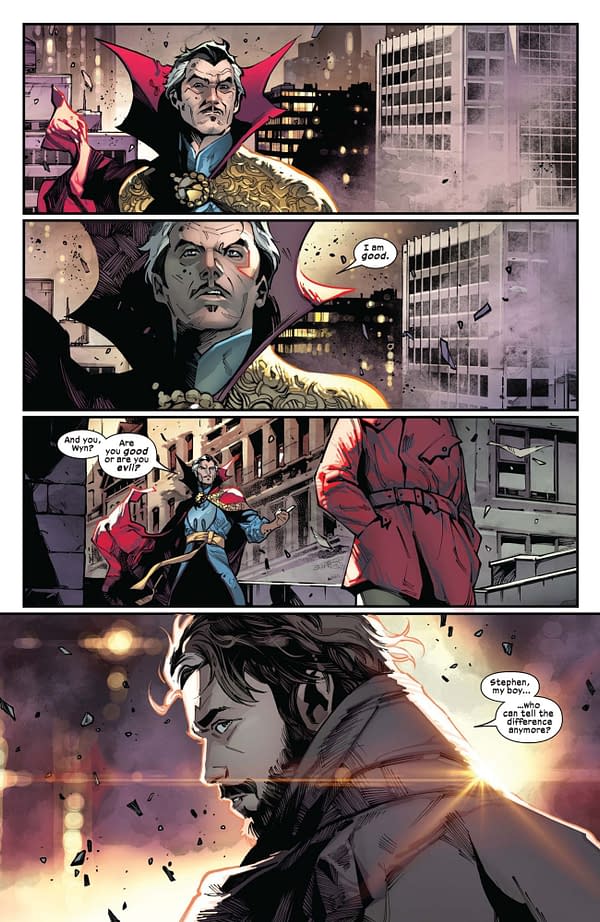 G.O.D.S. #1
Written by JONATHAN HICKMAN
Art by VALERIO SCHITI
Colors by MARTE GRACIA
Cover by MATEUS MANHANINI
The infinite détente between THE-NATURAL-ORDER-OF-THINGS and THE-POWERS-THAT-BE nears an end. Old acquaintances are reunited during a Babylon Event. The Lion of Wolves throws the worst parties. Don't look under the table. There's a John Wilkes Booth penny on the ground. On Sale 10/4 SRP: $9.99

G.O.D.S. #2
Written by JONATHAN HICKMAN
Art by VALERIO SCHITI
Colors by MARTE GRACIA
Cover by MATEUS MANHANINI
The Centum normally has twenty-five Primes, now only three remain. College isn't worth the time or the money. There's a hidden book in the hidden library that hides a hidden door. Cubisk Core is from Georgia, like that matters. On Sale 11/8 SRP $4.99

G.O.D.S. #3
Written by JONATHAN HICKMAN
Art by VALERIO SCHITI
Colors by MARTE GRACIA
Cover by MATEUS MANHANINI
Cassandra is cursed with knowing the future, but no one believes her. There are Black Swans in the bar. Oblivion wants to drink alone, but kids these days don't respect authority figures. Most of the ingredients are illegal outside of Hell's Kitchen. On Sale 12/20

G.O.D.S. #4
Written by JONATHAN HICKMAN
Art by VALERIO SCHITI
Colors by MARTE GRACIA
Cover by MATEUS MANHANINI
That guy in the Beekeeper suit is holding a thing that's freaking everyone out. A Skinner box is bigger on the inside than the outside. The Avatar makes an enemy on the Axis of Power. If you save the universe and no one remembers, is it worth it? Maybe. On Sale 1/24
---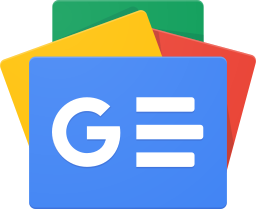 Stay up-to-date and support the site by following Bleeding Cool on Google News today!