Posted in: Comics, Comics Publishers, Current News, Marvel Comics | Tagged: bryan hitch, jonathan hickman, ultimate, ultimate invasion
---
Ultimate Invasion from Jonathan Hickman & Bryan Hitch showed us a new Ultimate Universe, one that the Maker carved out of a different reality
---
Ultimate Invasion from Jonathan Hickman and Bryan Hitch has shown us a new Ultimate Universe, one that Ultimate Reed Richards, the Maker, carved out of a different reality, changing aspects of the past to create a new present of his own liking. Even if the future tried to fight him over it. Which leads to great tense and timeline descriptions as the following from today's finale Ultimate Invasion #4. Spoilers, of course.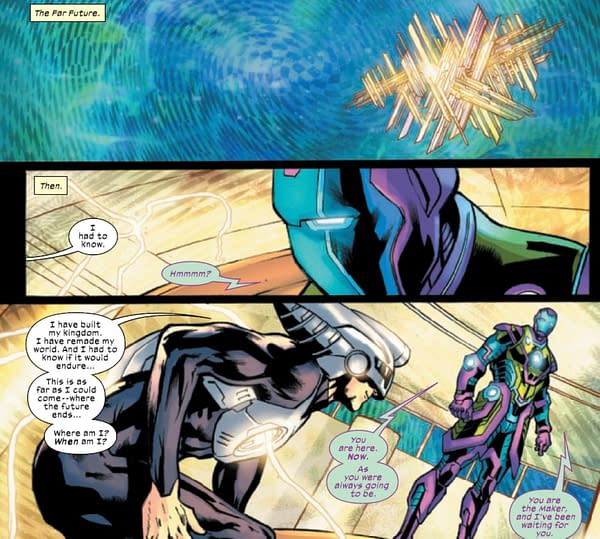 With the Maker up against a new Kang, for the fate of the timeline itself. One of the reasons he has had Howard Stark build up a new time machine, even though he already has a time machine. Because someone has to build the original for the previous one to be copied from.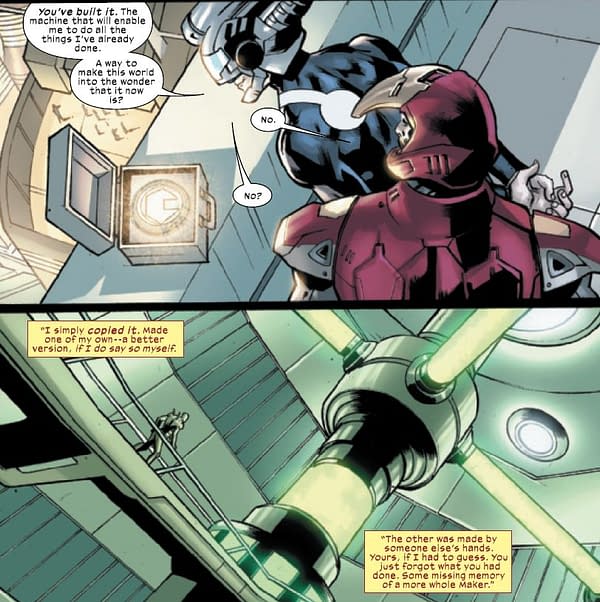 Even though it was copied from this one. A Moebius time loop.

something that is relied upon for this Ultimate world to even exist in the way it does now. This is your bootstrap theory of time travel.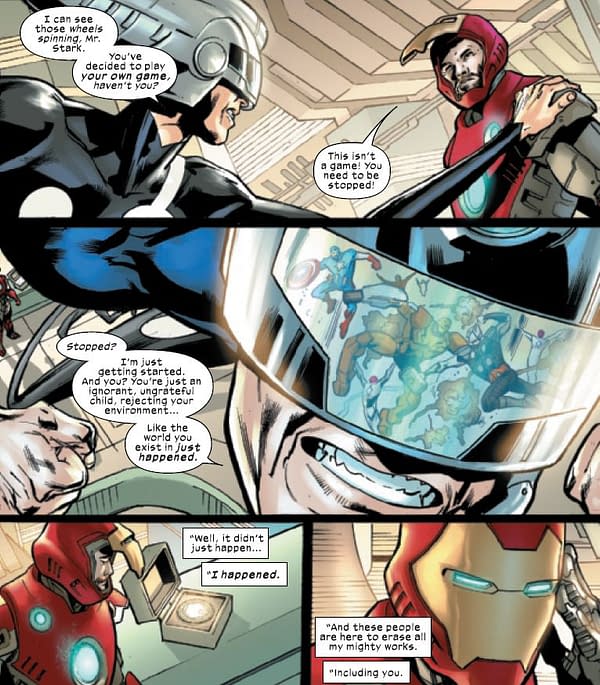 Even though it exists side-by-side with being able to kill someone from the future by wiping out their ancestors in the present day. That's a paradox in and of itself.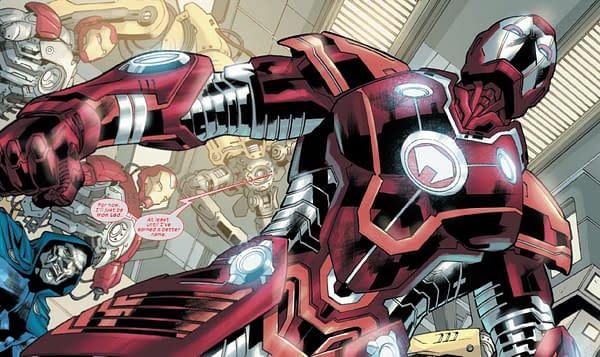 And if Howard Stark is Iron Man, than Tony Stark will have to be Iron Lad. Even if he wears the faceline of Kang in his own Iron Lad suit. Notably, in the Marvel 616 Universe, Iron Lad is the adolescent version of Kang, masquerading as a superhero in the Young Avengers comics.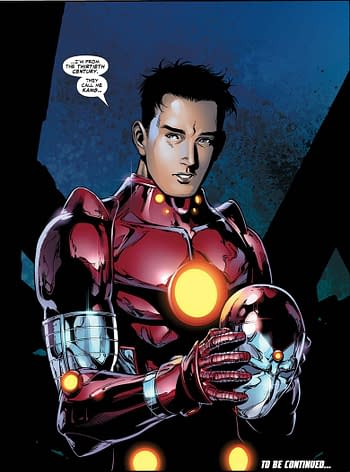 In Ultimate Invasion #4, it is Tony Stark as an adolescent who has become Iron Lad, but clearly will be Kang one day.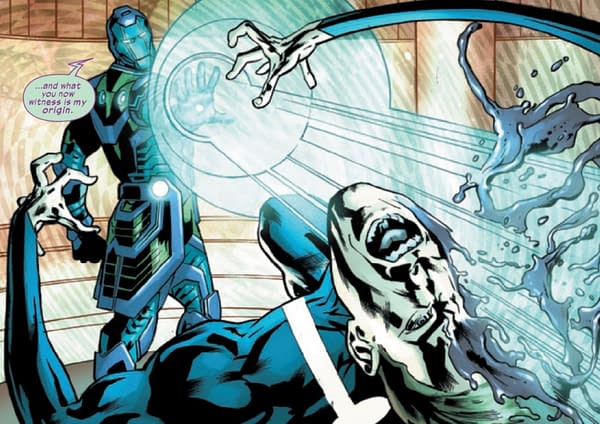 And this is his Origin. We previously saw The Maker remaking that world, removing superheroes from history, or dulling their presence, twisting them into political rather than vigilante figures. Superpowers rather than super powers, and much easier for him to buy. But there were some notable gaps.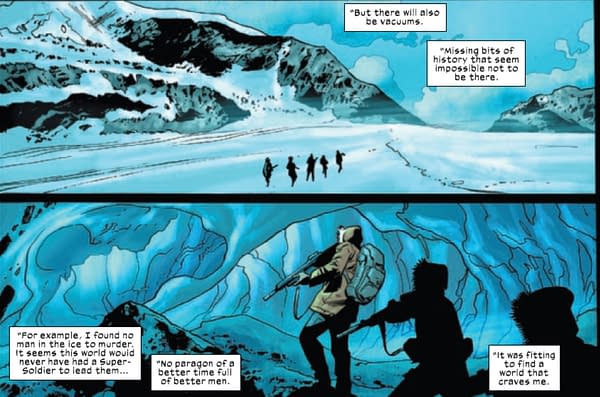 Such as an absence of a Steve Rogers in the ice, who would one day be revived as a new Ultimate Captain America. Well, in Ultimate Invasion #4, we find out why.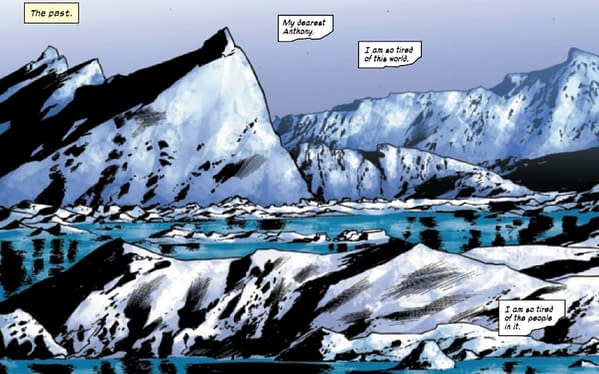 This Doctor Doom-masked version of Reed Richards and this  would-be-Kang adolescent Tony Stark just got there first…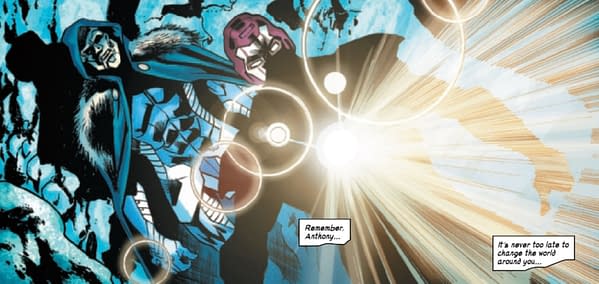 …and found just who they were looking for.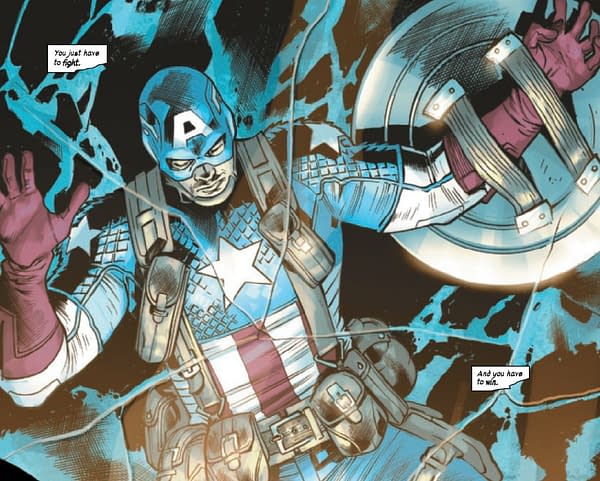 Now extracted from time, out of the clutches of The Maker, and ready to fight for, and inspire, a better Ultimate Marvel? That's all to come in Ultimate Universe in November with Stefano Caselli and the new Ultimate Marvel line to launch in January with Ultimate Spider-Man by Jonathan Hickman and Marco Chechhetto.
ULTIMATE INVASION #4 (OF 4)
MARVEL COMICS
JUL230672
(W) Jonathan Hickman (A/CA) Bryan Hitch
THE END…OR THE BEGINNING? War breaks out as timelines and universes collide! Iron Man must choose between the lesser of two evils – the Maker or Kang. But what secret does Iron Man know about the men behind the masks? And at the end of it all, the world outside your window will be forever changed! Don't miss this giant-sized, action-packed conclusion – or is it only the beginning…? Rated T+ In Shops: Sep 27, 2023 SRP: $8.99

ULTIMATE UNIVERSE #1
MARVEL COMICS
AUG230631
(W) Jonathan Hickman (A) Stefano Caselli (CA) Bryan Hitch
THE SPOILS OF VICTORY! After the worlds-shaking conclusion of ULTIMATE INVASION, a new team of heroes bands together to save the future! From mastermind Jonathan Hickman and superstar artist Stefano Caselli, don't miss out on this foundational issue for the new line of Ultimate Comics! Rated T+In Shops: Nov 01, 2023 SRP: $6.99
---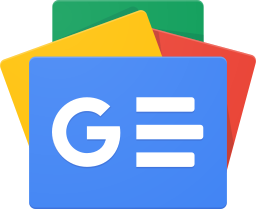 Stay up-to-date and support the site by following Bleeding Cool on Google News today!