Posted in: ABC, Comics, streaming, TV | Tagged: newlitg, wonder woman
---
Wonder Woman is not liking dodgy tweets… No matter what the world throws at you, at Bleeding Cool, you can still read all about stuff.
---
Wonder Woman is not liking dodgy tweets… No matter what the world throws at you, at Bleeding Cool, you can still read all about comics, merch, TV shows, games, movies, and more. The Daily Lying In The Gutters remains a long-running run around the day before and the day ahead. You can sign up to receive it as an e-mail here.
The most-read stories on Bleeding Cool yesterday: Wonder Woman Lassos Kari Lake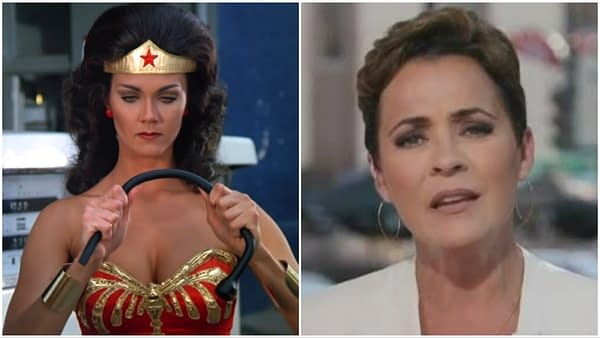 Lynda Carter Schools Kari Lake, MAGA "Cult" on Wonder Woman Meaning
Marvel Comics Full December 2023 Solicits
Take Down Society with Hot Toys New Spider-Verse Spider-Punk Figure
Dark Horse's December 2023 Solicits… And January 2024 Solicits Too
Teenage Mutant Ninja Turtles Race to 150 in IDW December 2023 Solicits
McFarlane Debuts Limited Run The Joker Comedian Sketch Edition Figure 
Zack Snyder's Rebel Moon in Titan Comics' December 2023 Solicits
Boom Studios' December 2023 Solicits Animal Pound & Book Of Butcher
Spider-Man: Across the Spider-Verse The Prowler Arrives at Hot Toys
Brian Bendis & Alex Maleev Create a Masterpiece For Dark Horse
A few other comics stories you might prefer
LITG one year ago, XXXX-Terminators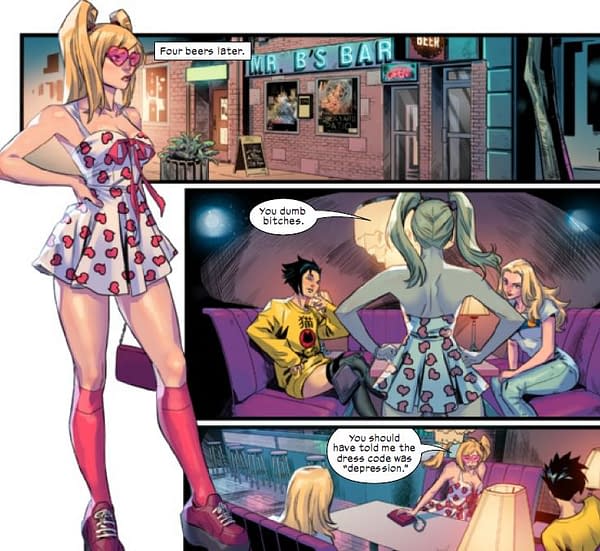 XXXX-Terminators in The Daily LITG 22nd September 2022
X-Terminators #1 Is More Like XXXX-Terminators #1
Judgment Day Changes Krakoan Resurrection Again (Major XSpoilers)
The Boys Perfect Comment Starts & Ends Jensen Ackles/Big Sky Pun War
Three 4Chan Posters Say They're DC Leakers, Two Of 'Em Must Be Wrong
A Final Judgment For Captain America (Judgment Day Spoilers)
Don Simpson Has A Few Things To Say About Rob Liefeld's WhatNot Cover
Rob Liefeld Vs. Don Simpson Round Two – The Splitting Image Years
Neil Gaiman Supports/Defends JMS's Babylon 5 Reboot Series Efforts
Supernatural Spinoff Pitch: So Hear Us Out, Ackles, Padalecki & Kripke
Radiant Black As A 22-Splash Page Infinite Edition For NYCC 2022
Tini Howard & Sweeney Boo Take Over Harley Quinn For 31st Anniversary
DC To Surprise-Publish Marvel Family First Appearance Of Black Adam
The Future of 1997 in Fiction House's Fight Comics #1, Up for Auction
Azza The Barbed Left Speechless By Scout Comics
Victor LaValle & Jo Mi-Gyeong Crossover With Eve: Children Of The Moon
Dynamite Doubles Or Triples Orders At FOC With Diamond Comics
Jamie McKelvie's Artwork For Catwoman: One Bad Day
LITG two years ago, No More Guardians Of The Galaxy
Today, Marvel Has Cancelled Guardians Of The Galaxy
Buffy & Angel Star on Joss Whedon Encounter, John Barrowman & More
Dark Side of the Ring: Rob Van Dam Looks to Clarify Ric Flair Comments
New X-Men Team For 2022, Spinning Out Of Onslaught/Way Of X (Spoilers)
Family Guy Gets Heartbreaking Goodbye Bumper from Adult Swim
Here's the Current Full Card for AEW Dynamite and Rampage Grand Slam
More Marvel Comics Teasing Of The Reckoning War
Disney Parks 50th Anniversary McDonald's Happy Meal Toys Are Here
Sensor is Junji Ito's Most Ambitious Cosmic Horror Tale Yet
Tonight is Shiny Lake Trio Raid Hour #2 of 3 in Pokémon GO
Dark Horse Unveils David Mack Variants for Critical Role Comics
Marvel Launches Venom/Carnage Digital Series on Marvel Unlimited
Harley Quinn Animated Series: The Eat Bang Kill Tour Gets 2nd Print
Gunslinger Spawn #1 Beats Spider-Gwen #1 With 385,000 Orders
Dean Haspiel's Red Hook Ends With Post-Traumatic Superhero Disorder
Valiant Promotes Gregg Katzman To Director of Marketing & Publicity
Silenced Voices, a New Guatemalan YA Graphic Novel from Pablo Leon
Orchis, Onslaught & Struckers In Krakoan X-Men Comics Today (Spoilers)
Fae And The Moon, New Graphic Novel by Franco Aureliani & The Satruns
Action Lab Brings Back S-Factor For December 2021 Solicitations
PrintWatch: King Spawn #1 Tops Half A Million With Second Printing
Who Killed Doctor Strange? You Will Know Them By Their Teeth
LITG three years ago, Rick and Morty and Pokémon GO
Rick and Morty Emmy Shock: Rick Reveals Why He Hasn't Tackled COVID
Spearow Spotlight Hour In Pokémon GO: Will It Be Shiny?
The Mega Buddy Event Is Now Live In Pokémon GO
Everything Pokémon GO Players Need To Know About Articuno
Last Week Tonight Host John Oliver Wins 5th Emmy, Addresses Danbury
Shiny Doduo Has Been Released In Pokémon GO's New Event
Jim Campbell on Unauthorized Watchmen Sequel: "F*** Tom King"
Epic Games Blames Apple For Fortnite: Save The World Ending On Mac
Immortal She-Hulk Preview – Is Krakoa A Well For Mutants?
A Different Lois Lane All Along? (Action Comics #1025 Spoilers)
Death Metal: The Batman Who Laughs Throws All the Shade at Wally West
Girl Haven by Lilah Sturges, Meaghan Carter in Oni December Solicits
What On Earth Happened to Marvel's Otherworld? X Of Swords: Creation
DC Cancelled John Constantine Again? Justice League Dark #27 Spoilers
Batgirl #49 Suggests Joker Lives, But Someone Else Doesn't (Spoilers)
LITG four years ago, we promised proper Nightwing would return in 2020
And he did, didn't he? Just took a little longer than anticipated.
Proper Nightwing to Return in 2020 in James Tynion IV's Batman Run
Hush Returns to Batman with Tom King, John Romita Jr and Klaus Janson?
"Star Trek" Characters Who Should "Boldly Go" to Spinoff Series [Opinion]
Back to Watchmen and Batman With Tom King
Magneto Joins the X-Men in New Mezco One:12 Figure
Miles is Adjusting to the Evil Symbiote Life in Absolute Carnage: Miles Morales #2 [Preview]
The Inferior Spider-Man in Superior Spider-Man #11 [Preview]
"Penny Dreadful," "Watchmen," More: Showtime/HBO 2019-2020 [Opinion]
John Wayne is Dead in Captain America #14 [Preview]
Dan Didio Finally Gives DC Fans the Crossover They Deserve
LITG five years ago, Super Smash Bros was leaking…
Which is a very unpleasant image, especially when plumbers are involved.
From The Rumor Mill: New Character Leaked for Super Smash Bros. Ultimate
The Other Major Heroes In Crisis #1 Death Confirmed? Really?
Will Brian Bendis Be Writing a Leviathan Series for DC Comics?
Bleeding Cool Brings You Batman's Penis In All Its Batglory From Batman: Damned #1
Nightwing May Be Losing His Dick But Batman Is Getting One 
Comic Book birthdays today.
There might be partially slightly more of a party atmosphere right now. It all depends on which state you are living in. But comics folk are still getting older and still celebrating that special date with twelve years for us as well.
Peter David, Spider-Man, Supergirl, Star Trek and Hulk writer, co-creator of Sachs & Violens.
Robert J. Sodaro, creator of Cyberines.
Subscribe to our LitG Daily Mailing List.
If you are in comics and have a birthday coming up – or you know someone who has – get in touch at richjohnston@bleedingcool.com.
Wonder Woman Wonder Woman Wonder Woman Wonder Woman Wonder Woman
---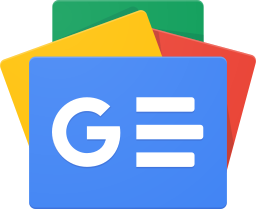 Stay up-to-date and support the site by following Bleeding Cool on Google News today!