Posted in: Boom, Comics, Comics Publishers, Current News, Dynamite, Oni Press, Opus Comics, Titan | Tagged: Animal Pound, diamond previews, Gumaa
---
Diamond Previews catalogue is out next week, with Animal Pound on the front cover and Gumaa: The Beginning of Her on the back.
---
Diamond Previews catalogue is out next week, with Tom King and Peter Gross' Animal Pound from Boom Studios on the front cover, "as a group of unwanted animals take control of the animal shelter that is their home", with the new Gumaa: The Beginning of Her #1 by Jee-Hyung Lee on the back, from Titan Comics. And the characters of Zack Snyder's forthcoming space opera for Netflix, Rebel Moon, with Diamond Select Toys' Rebel Moon Wave 1 Deluxe Action Figures, on the spine.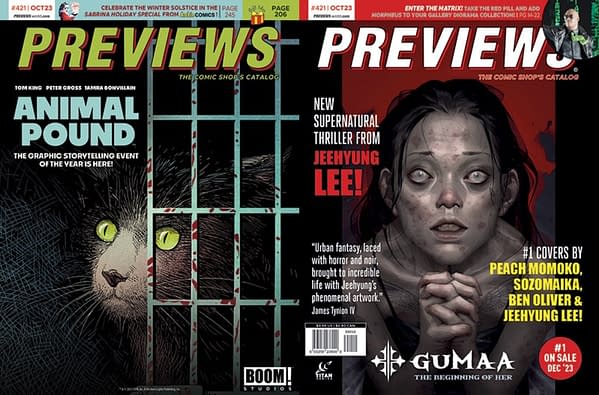 Gems of the Month: October's PREVIEWS Gems of the Month include:
Boom Studios' Animal Pound #1 ( OCT230009), The Book of Butcher #1 ( OCT230025), and Underheist #1 ( OCT230017)
Dynamite Entertainment's Disney Villains: Cruella de Vil #1 ( OCT230194), Jennifer Blood: Battle Diary #1 ( OCT230247), and Justice Ducks #1 ( OCT230205)
Image Comics' Duke #1 ( OCT230401)
Marvel Comics' Star Wars: Revelations #1 ( OCT230732)
Deluxe Publishers: Among the Featured items from the Deluxe Publishers this month:
ABLAZE Publishing' The Awl Volume 1 ( OCT231031), Traveling to Mars TP ( OCT231032), and Zombie Makeout Club Volume 2 GN ( OCT231029)
Massive Publishing: Quested Volume 2 #1 ( OCT231089) and Washed in the Blood #1 ( OCT231098)
Opus Comics' Bill & Ted: Holidaze TP ( OCT231083) and Washed in the Blood #1 ( OCT231073)
Titan Comics' The Cold Ever After HC ( OCT231006), Gumaa: The Beginning of Her #1 ( OCT230984), Life Is Strange: Forget-Me-Not #1 ( OCT230995), and Tengen Hero Wars Volume 1 GN ( OCT231019)
Zenescope Entertainment's Cinderella: Princess of Death One-Shot ( OCT231137)
Some problems in St. Canard are too big for Darkwing Duck alone, and when he needs allies he calls upon Roger Langridge and Carlo Lauro's Justice Ducks ( OCT230207) from Dynamite Entertainment. Plus, Tom King and Peter Gross team up for a modern take on George Orwell's Animal Farm in BOOM! Studios' Animal Pound ( OCT230010); a decorated soldier will confront the truth about extraterrestrial intelligences in Image Comics' new Energon Universe book, Josh Williamson and Tom Reilly's Duke ( OCT230402); Brian Michael Bendis and Alex Maleev reunite for the new Jinxworld book, Dark Horse's Masterpiece ( OCT231200), as the teenage daughter of the world's two greatest thieves runs a heist of her own against a billionaire; Mike W. Barr's award-winning mystery comic The Maze Agency ( OCT231972) returns from Scout Comics; fan-favorite anime Demon Slayer is reimagined into a comedy manga in VIZ Media's Demon Slayer: Kimetsu Academy ( OCT232084); andmany more products coming you will look forward to in the months to come
Previews also talks to Darick Robertson (The Boys, Transmetropolitan) about his decades-long career, recent projects, his focus on writing, and the comics he's enjoying today and in this month's Editor's Note, Previews editor Marty Grosser talks about his July adventures in California around San Diego Comic-Con, reconnecting with old friends, and his comic, The Gunhand (OCT231626), and the cover by Mike Plog.
---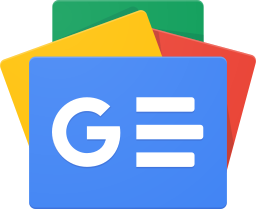 Stay up-to-date and support the site by following Bleeding Cool on Google News today!